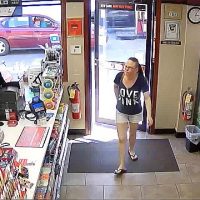 Authorities in Mercer County are asking for the public's help in finding someone who allegedly used counterfeit bills at a local retailer.
Mercer County Crimestoppers says a female entered a business they did not identify Tuesday afternoon and used fake money to make a purchase.
It's not clear what was purchased, but you can see a store surveillance of the person they're trying to identify here.
If you know who it is, you're asked to call Mercer County Crimestoppers at 1-800-582-2762, or locally at (309) 582-3500.
You could be eligible for a reward of up to $1,000 if your information leads to an arrest.
Here is a larger version of the photo.
UPDATE:  Since this story was originally posted, Mercer County Crimestoppers says the person in the picture has been identified.  They did not, however, release her name.