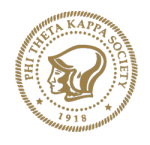 Carl Sandburg College's Chi Kappa chapter of the Phi Theta Kappa Honor Society was recently presented with a Distinguished College Project Award.
The honors came during the Phi Theta Kappa's annual international convention.
The award honors chapters for exemplary work on their College Project, meant to build stronger relationships between chapters and college administration in addition to supporting the college's mission.
Sandburg's project saw students contribute to a weekly column series celebrating the College's 50th Anniversary with the Register-Mail.
Sandburg's PTK chapter was one of 50 selected for the honor out of nearly 600 that submitted for the competition and the only school from Illinois.
PTK includes more than thirteen-hundred two-year colleges across the U.S., Canada and abroad.
Membership enhances a student's resume, and provides them special transfer scholarship opportunities at many four-year colleges and universities.