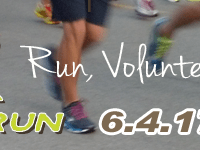 Run Galesburg Run is coming up on it's sixth year in just a few weeks on June 4.
Besides being an excuse for the Galesburg community to get together to get some exercise, it also gives local tourism a shot in the arm.
Race organizer Dave Dunn says last year even two foreign countries were represented.
"And 14 states," Dunn says. "Some of that's because of Galesburg connections but some of it is people are on the running circuit and their looking for a good race that fits with their schedule and they come to Galesburg."
Dunn says they've tossed around changing the date but race calendars are typically tight so moving the race would likely conflict with another event, causing a loss of runners.
Race Director Kim Schrader says the RGR offers a flat course which can be appealing to runners not looking for the challenge of hills.
Seminary Street construction is precipitating the only real change in the course this year.
Previously the course went across the block of Seminary in front of Cottage Hospital but now they'll take a right on Losey before heading north on Florence Avenue.
The 5K will loop around on Grove and come back on Chambers.
Dunn says this is a less awkward turnaround than past year's turnaround for the 5K.
He adds that there still in need of volunteers, particularly those willing to stand along the course and direct runners where to go.
CLICK HERE for more information on how to volunteer.