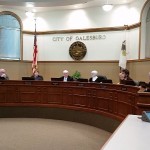 The Galesburg City Council approved a five-year contract last night for Dan Reynolds to operate concessions, rentals and the waterslide at Lake Storey Beach.
Council had a similar proposal from Michele Dennis that Council considered a few weeks ago before Dennis withdrew.
City Administration was not necessarily recommending or against last night's proposal.
City Manager Todd Thompson said he had concerns regarding lifeguards watching over the water slide and not the beach or vice versa.
The contract approved last night is for the waterslide to be guarded and not the beach.
Mayor John Pritchard estimates a savings of $18,000 with this contract.
Alderman Peter Schwartzman the only no vote said he had nothing against Reynolds but felt like the process was rushed.
"If this council wanted to pursue an independent body running the lake, concessions and so forth, we would put an RFP out months in advance, we'd get multiple people coming forward with different plans and ideas and then we would decide on the basis of what's the best deal for Galesburg," Schwartzman says.
Reynolds says he believes it's important to keep the cost of beach concessions economical in order to be affordable for everyone.