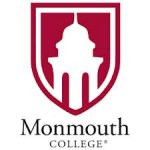 Monmouth College added a new batch of alumni to their roster yesterday with the 160th Commencement exercises in the school's history.

285 Bachelor of Arts degrees were handed out as a bright sun beat down on the lawn in front of Wallace Hall.
PBS Executive Juan Sepulveda spoke.
Sepulveda was the third Latino awarded a Rhodes Scholarship, and after earning degrees from Harvard, Oxford and Stanford Law School he was presented an honorary doctor of humane letters from Monmouth.
Some advice he bestowed about the Class of 2017, don't be afraid to take risks.
"Never forget where you come from, don't let other's define who you are, take risks, ask for help and be sure to share all you've learned with those behind you," Sepulveda says.
Four recently retired professors were also honored yesterday.
James Betts, Lee McGaan, Ira Smolensky and William Wallace are names that most Monmouth students from the last several decades will recognize.
The quartet had 129 years of service to the college.