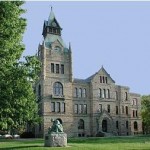 A Galesburg man will go to prison for a short period of time after taking a plea deal in a felony methamphetamine-related case.
Knox County Circuit Court records indicate 30-year-old Michael Yahnke pleaded guilty yesterday to two counts of Possession of Methamphetamine-Manufacturing materials.
In exchange, one of the counts was amended so that it was no longer a Class-X felony, five other felony charges and several traffic tickets were dismissed.
Yahnke was arrested in August last year after meth was allegedly found in his possession during a traffic stop.
A well-being check by state Department of Children and Family Services officials where they allegedly found a meth lab in the basement of Yahnke's Ivan Avenue home resulted in additional charges originally being filed.
Yahnke was sentenced to serve a total of five years in prison, but was given credit for 283 days served in jail, and must serve only half the remainder of the sentence before he can be released — or, less than two years.