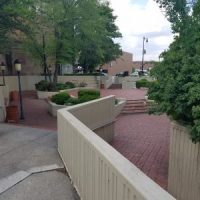 Galesburg residents will get to put their eyeballs on design concepts for plans to overhaul Park Plaza in Downtown Galesburg.
Next Wednesday from 4 to 6 renderings of the two different plans will be presented, including how the area can be modified for a host of different uses.
Residents will be able to give their feedback to city staff and design consultants.
They want to know how the area might better serve both the public and downtown businesses.
The viewing will be at Park Plaza itself or Galesburg Civic Art Center in the event of inclement weather.
City Council last year approved a Downtown Design Development Plan which identified redevelopment of the plaza and adjacent parking areas as a priority project.
According to a city news release the plaza was first constructed in the 1970's and is need of major repairs.
WGIL reported last week that Cafe in the Park, perhaps the plaza's hallmark event will be cancelled this year.
The event's organizer Bill Morris says that the plaza's pending construction, which probably won't this summer, has little to do do with Cafe in the Park's break.
He says it has more to do with finding it difficult to organize the weekly event and balance that with his job as Executive Director of the Galesburg Convention and Visitor's Bureau.
It is currently estimated that the park's reconstruction will be done sometime in 2018.