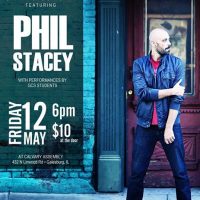 Christian music performer Phil Stacey will be performing tonight at Calvary Assembly of God Church.
Stacey, who gained national attention when he was a finalist on season six of the music contest show American Idol, will be joined by Galesburg Christian School students choirs starting at 6 p-m.
Bob Nutzhom, GSC administrator, tells WGIL that Stacey had actually reached out to Calvary Assembly before GSC was even involved.
"Phil had actually contacted them and said, 'hey we've been to your place to have a concert before, would you want to have me back?' and Pastor Jeff and Pastor Craig called me up and said hey would you guys want to do this with us and we can have proceeds benefit the school and that was huge for us," Nutzhorn says. "Just another little benefit for us."
Nutzhom says he's expecting a full house and tickets are available at the door or online.
The sooner you buy the better, only 450 seats are available.