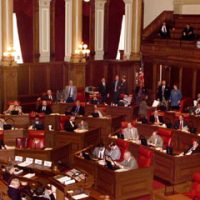 Illinois is a step closer to having Medicaid cover abortions but it seems unlikely to come to fruition with Gov. Bruce Rauner saying he will not sign the bill.
HB40 was passed by the Senate on Wednesday but Senators Chuck Weaver and Jil Tracy were not in favor.
Weaver say "taxpayer funding of abortion" goes too far and believes even many pro-choice supporters agree with him.
Tracy who talked about her adopted daughter on the senate floor concurs with Weaver.
She also brought up her experiences as an attorney who placed many children who were born under difficult circumstances while making a reference to senators who, on that same day, considered a bill recognizing children who grew up in the state's foster care system.
Senator Weaver was more succinct in a statement saying merely "Taxpayer funding of abortions is an issue even many pro-choice supporters believe goes too far."
The bill also includes a "trigger provision" which would ensure that in the event that Roe v. Wade is overturned in the Supreme Court that abortions would remain legal in Illinois.
Democratic Sen. Toi Hutchinson of Olympia Fields says the measure is about providing care for poor women who have limited options and she was sick of Republicans advocating limited government except when it comes to women's medical issues.
Senator Dan Harmon the bill's chief sponsor filed a motion Thursday to temporarily withhold the bill from Rauner's veto.
Advocates of the bill have criticized Rauner for his vowed veto after campaigning as a Republican with "no social agenda."