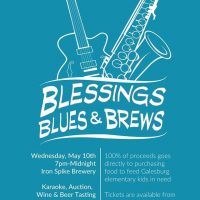 65 to 70 percent of District 205 students on a yearly basis are eligible for free and reduced lunch.
These students are fed breakfast and lunch at school but on weekends kids many of these kids don't have enough to eat.
Former Principal and Assistant Superintendent in District 205 Joel Estes saw up close the need that exists.
"I knew particularly when I was an elementary principal," Estes says. "Did cafeteria duty and I would see there were a lot of kids that man, they cleaned their plates every single time they cleaned their plates, breakfast and lunch and I knew in those homes, food was an issue and food insecurity is a huge issue in Galesburg,"
Estes helped launch Blessings in a Backpack about six years ago at Knox.
Blessings, Blues and Brews at Iron Spike tonight hopes to raise funds that will 100 percent go to helping these kids.
$20 is the cost at the door for a night music, prizes, beer and wine tasting and even karaoke past 10 p.m.
He says the program continues to grow by leaps and bounds which is both positive and unfortunate since that means the need is still there.
Estes says the backpacks can also be assistance to parents who are struggling to make ends meet.