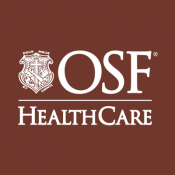 OSF Healthcare is once again being recognized as a top performing health care system by an independent health care analytics research company.
Truven is that company that by their measure puts OSF in the top 20 percent of large health care systems in the country out of the 109 systems that analyzed.
They say they use unbiased, impartial public data sources to render the results.
Five components that were taken a look at were inpatient outcomes, process of care, extended outcomes, efficiency and patient experience leading.
OSF's high ranking indicates they are in the upper fifth of health systems in areas like causing fewer patient complications, released patients sooner and shorter emergency room waits.
OSF CEO Kevin Schoeplein says the achievement is recognition of "something that takes teamwork" across all of the system's regions and facilities.
Besides hospitals in Galesburg, Monmouth and Peoria OSF operates facilities in Kewanee, Rockford, Mendota, Ottawa and Pontiac just to name a few.