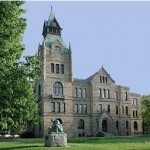 A Galesburg man will serve a small amount of time in prison after being convicted in two felony drug cases from last year.
Knox County Circuit Court records indicate 40-year-old Quennel Augusta pleaded guilty Friday to counts of Possession of Cocaine with Intent to Deliver. He was pulled over twice over three days in January of 2016 – and had cocaine and cannabis on him each time.
As part of a plea deal, several other drug charges were dropped, as was a felony drug case from 2014.
Augusta was sentenced to two six year prison sentences to be served concurrently, but was given credit for 488 days held in jail, and must only serve half of the remaining time before he can be released.
That means Augusta will have to serve less than two years, and published reports suggest Augusta is planning to appeal the plea deal.