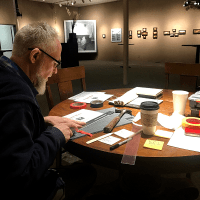 A Galesburg native has returned to the region he was born and raised to present a collection of his most recent work.
The Buchanan Center for the Arts is hosting Sean Culver's Ground Wave, his first major exhibition in the area till the end of May.
Culver was born in Galesburg in 1962 and graduated from The School of the Art Institute of Chicago in 1986.
Parts of his collection of recent work includes watercolor, ink, acrylic paintings and architectural sculptures as well as personal effects such as the kitchen table from his grandparent's former Lake Bracken home.
Monmouth's Buchanan Center for the Arts recently celebrated the grand opening of their Pattee Plaza public art and green space on the square in Monmouth with help from the Pattee Foundation.
Events kicked off on Friday with a ribbon cutting ceremony and a free public concert on Saturday featuring The Way Down Wanderers.
In a press release, Executive Director Kristyne Gilbert says that the new plaza will further the BCA's mission and offer creative and diverse artistic experiences, as well as add to the aesthetics of downtown Monmouth.
The Pattee Plaza will be open during regular hours at the Buchanan Center, with reservations for special event available in the evening.
The BCA was established in 1989 through a memorial from the late Grace Buchanan to "provide opportunities for education in and enjoyment of the arts"