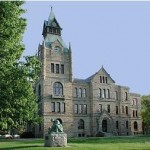 A Galesburg man has accepted a plea deal after being arrested in January for having a stolen gun in his possession during a traffic stop.
Knox County Circuit Court records indicate 20-year-old Garrett Grice will be sentenced June 29th after he pleaded guilty yesterday to a single felony charge of Possession of a Stolen Firearm.
Other felony weapons charges were dropped in exchange for the plea.
Grice was arrested back in January. A 22-caliber handgun Grice allegedly had was reported stolen following a break-in back in December to Tom's Gun Shoppe on South Seminary Street, for which three teenagers ended up being arrested.
Grice is free from custody until his sentencing June 29th. Another of the suspects in the case reportedly will be in court next month.