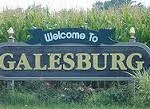 What some say has become a downtown Galesburg staple over the last two decades, but what others say has seen dwindling attendance in recent years, is one that its organizer says he just can't do any more.
Bill Morris says there will not be a "Café in the Park" in the downtown Park Plaza area this summer, and he tells WGIL it's mainly because he just doesn't have time, "My job is so demanding, there's really no way I can take fifteen Wednesday's out of the summer anymore and do an event like this. In the past I was self-employed, and I could do whatever I wanted. So I could work my schedule around it."
Morris says too that it wasn't the most expensive event to put on every year, but it did cost a few bucks for the bands that performed. Spending also included performance rights organizations ASCAP and BMI as well as marketing costs.
He also said it never created a surplus afterwards, "truthfully even though we had sponsers, and reasturants also had their stake in it… even at the very best years it always just broke even."
That day job, by the way, is Executive Director of the Galesburg-Area Convention and Visitors Bureau.   Morris says the pending re-do of Park Plaza and the adjoining parking lot also has a little to do with it, though it won't start this summer.