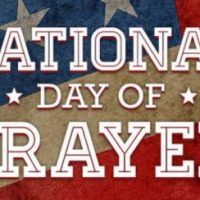 National Day of Prayer will be recognized across the United States today and Galesburg is no exception.
The theme for this year across the country is "For Your Great Name's Sake" based on the Biblical verse Daniel 9:19 "O Lord, Listen! O Lord, Forgive! O Lord, Hear and Act! For Your sake, O my God…"
The major event in Galesburg is typically a prayer service.
It swings from one church to the next from year to year, reflecting the interdenominational nature of the event.
This year First Church of the Nazarene on Farnham Street will play host.
Rev. Leigh Nygard says that different lay people will lead prayers for seven different areas.
"The government, the military, the media, business, education, church and family are the seven areas that we are zeroing in on," Nygard says.
National Day of Prayer is not exclusively a Christian event although the National Day of Prayer Task Force that organizes on a national level execute the day in accordance with Judeo-Christian beliefs and a majority of events held around the nation are Christian based.
The prayer service begins at noon and expects to wrap up by 1 p.m.