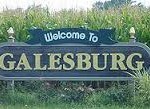 Galesburg Public Works Director Wayne Carl says construction on the new East Main Street underpass is going very well.
Just how well? Carl tells WGIL crews are way ahead of schedule, saying "for the phase they're working on.. about a month and a half in that range and it could be more than that."
Carl says weather has a lot of to do with the schedule, but getting more time on the railroad tracks to do work from Burlington Northern Santa Fe also helps. Carl says all this means a part of the project that was to start in June, will now start in the coming weeks.
He told WGIL that, "the contractor was thinking it would be June before he was ready for a shut down of the track but that's been moved up to May 16th now. So it's been moved up quite a bit. The westerly track of the three tracks is the one he'll put a bridge in first."
And Carl says that will have to be done within 48 hours of making the track non-operational.
All in all, the underpass is still on track for being open to the public by this time next year.