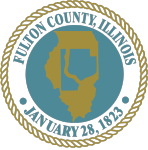 Three people were killed in a single vehicle accident outside of Canton on Monday night.
Authorities have now have revealed the identities of the three deceased as 18-year old Morgan Bick, 41 Eric Morse and 28-year old Nicholas Pacheco.
Morse was a resident of Cuba and Bick and Pacheco were from Canton.
Fulton County Sheriff Deputies and fire-rescue personnel responded to a report that a car had left the roadway and entered a lake at around 10:25 p-m Monday.
The accident occurred at the intersection of County 5 Highway and Lone Barn Road to the southwest of Canton.
According to a press release from the Sheriff's Office, preliminary investigation suggests the passenger car eastbound on County 5 Highway when it left the road off the right shoulder and rolled down an embankment landing its side in water.
The investigation is ongoing.
3 other individuals were taken to area hospitals with what appeared to be non life-threatening injuries.
Copperas Creek Fire Department, Cass-Putman Rescue Squad, Fulton County Emergency Medical Association and OSF Life Flight all assisted at the scene.