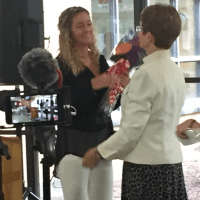 It's been a whirlwind few weeks for Jacie Kersh.The Galesburg High School senior had to coordinate her plans for prom as she was in Atlanta competing in the Great Galesburg Shake which she would go on to win.
Then coming not far behind high school graduation day, on June 13 Kersh will enter basic training for the Air National Guard.
She says she always had a mind to join the military and then after talking to recruiters from different service branches the Air National Guard stuck out to her.
She will train to be a Command and Control Battle Management Operator and next year plans to attend the University of Illinois.
Kersh competed in the Shake last year but doesn't think that previous experience necessarily was that big of a help because she only made it to the first round.
Even though it was a favorite of some her peers, Kersh said a weak round for her was selling soda to representatives from G&M Distributors.
When reflecting on what the Shake has given her, Kersh talks about the human connections.
"I didn't really know any of these people and having to open up to them and they open up to me, it helped to kind of get me more comfortable in my skin and learn things about myself that I didn't know," Kersh says.
Jody McNally, who's a member of the Great Galesburg Shake committee and one of the four teachers who decided to bring the Shake to Galesburg from the Ron Clark Academy said being able to go to Academy in Atlanta was like coming full circle.
Still McNally says they'll keep working to big the shake bigger and better.