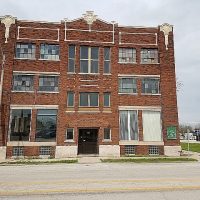 Mayor John Pritchard as well as Alderman Wayne Dennis, Corine Anderson and Wayne Allen all will be sworn in tonight for a new term.
They'll promptly get to work though on a decision of whether or not to option the Old Ferris Moving Building to a group of investors lead by Kit Wilcox for $10. 
Wilcox says architects estimate it will be an $8 million investment to make the building into the boutique hotel they desire.
Alderman also tonight could approve a water infrastructure grant to Pegasus Manufacturing in the amount of $10,000.
The grant is to install a new water line to an existing building located at their campus on Enterprise Avenue.
Pegasus was approved for a $500,000 loan to expand into the forging-die manufacturing business but one of the buildings they need to renovate doesn't have restroom facilities a waterline installation is necessary.
Alderman have a bid before them from J.C. Dillon Inc out of Peoria to replace 410 lead water service lines to begin with.
City administration says they will begin replacing lines at homes of families with low to moderate income, children under the age of 6 who have tested for high lead levels in the past and whose service lines tested above 15 ppb in the past.