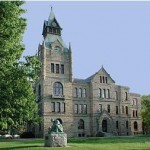 A Galesburg man now has a weapons charge after being arrested last month for resisting arrest and obstructing justice.

Knox County Circuit Court documents indicate 20-year-old Demetri Collins made a court appearance Wednesday on the new charge of Possession of a Stolen Firearm.
Collins already faced counts of Possession of a Weapon by a Felon, and Resisting Arrest, following his March 18th arrest, where he allegedly gave officers a false name, caused one officer to be hurt while handcuffing Collins, and had a nine-millimeter gun.
Collins pleaded not guilty last week, records say, to the original charges, and will be in court again June 5th for a pre-trial hearing.