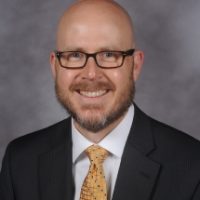 Someone who could be District 205's next superintendent has been recognized as an outstanding administrator at the state level.
Dr. John Asplund, currently the top administrator at Farmington Central District 265 and one of three finalists to replace Ralph Grimm in Galesburg, was one of 21 Superintendents of Distinction recognized by the Illinois State Board of Education and a group of other state education organizations.
Each of Illinois' 21 IASA regions honored a superintendent as selected by regional colleagues.
Farmington Central is a part of the Western Region, which includes Galesburg and schools in Hancock, McDonough, Fulton, Warren, Henderson and Knox counties.
A news release says the award recipients are chosen based on their leadership for learning, communication, professionalism and community involvement.
Asplund started his teaching career in Knoxville and has been a superintendent for the last 15 years at four different districts including Villa Grove, Lake Bluff and Reed-Custer.
He is one of three finalists for the District 205 job along with Superintendent from Erie, Bradley Cox and Steve Wilder from Knoxville.