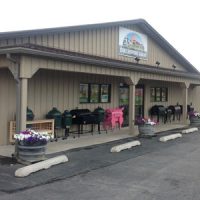 Thrushwood Farms is celebrating their fortieth anniversary next month.
Jim Hankes, owner of Thrushwood Farms joined Galesburg Live this weekend where he talked about the birth of the idea, the early days of Thrushwood, and the catering days of the 80s.
Hankes sitting at the kitchen table with his brother Ray and Ray's brother-in-law Bill coming up with ideas for a meat processing plant to get meat from the farm to the table far ahead of the craze of farmers markets.
Hankes said in the beginning Thrushwood wanted to be more than just a meat processing plant.
The retail side of the business was expanded on with the addition of deli cases, and additional freezers.
They also sell equipment and supplies needed for smokers and grillers to get through any occasion.
Thrushwood has also received world wide recognition for winning many contests since their birth.