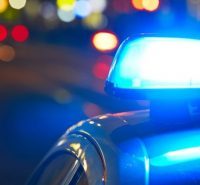 Galesburg Police say a man caused damage to a dump truck after he drove drunk in a closed-off section of North Seminary Street a few days ago.
Police reports say the incident happened after 11 o'clock last Thursday night. 43-year-old Scott Swanson, police say, had a blood-alcohol level of point-two-six-three, or more than three times the legal limit, when he drove into the construction zone and struck the dump truck.
The dump truck as well as Swanson's vehicle sustained some damage.
Swanson is being held in the Knox County Jail on 25-thousand dollars bond after being treated for injuries he sustained, and made an initial court appearance Friday. No word on when his next appearance will be.
Swanson faces charges of Driving Under the Influence, Illegal Transportation of Alcohol, and other traffic offenses.