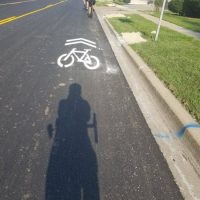 Cyclists of Galesburg is holding their fifth annual Spring Tune-Up Ride this Saturday, April 29th starting at 9 a-m.
Registration for the ride begins at 8 a-m the morning of the event in the parking lot behind Ride and Run on East Main.
The ride this year will be broken broken up into three separate 10-12 mile loops instead of just one 40-mile loop like it had been done in previous years.
Galesburg Alderman, and cyclist Jeremy Karlin says if you don't wish to take part in the full ride, then you don't have to.
"That way if you only want to do 10 or 15 miles, you can do it," Karlin says.
Free food is being provided to the cyclists by Buddes Pizza on Main street.
Online registration is currently open, and you can register by going to cycle-burg-dot-com.
Cost is 25 to 30-dollars and proceeds raised go towards Habitat for Humanity, and the only requirement to ride is that you wear a helmet.