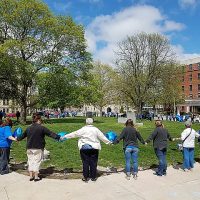 Yesterday the annual Hands Around the Courthouse brought members of the community together to raise awareness about child abuse.
The events were held at the Knox County Courthouse with keynote speaker, Detective Todd Olinger.
Olinger is a 16 year vet of the Galesburg Police Department, 7 of those years he has spent as a investigator with the special operations division.
Detective Olinger commended the many advocates he'd worked with over the years through the police department.
"I've seen first hand, their tireless and often unappreciated efforts as they dedicate their lives to assisting those who needed it the most, our children," Olinger says. "Through endless personal sacrifice our area advocates fight for the rights of our most vulnerable to seek justice and ensure are communities are safe for all residents."
Olinger continued saying he is "blessed with the opportunity to serve the public and advocate for the rights of the victims."