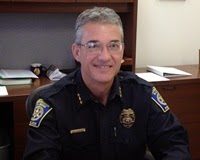 After 42 years in law-enforcement, Monmouth's Police Chief Bill Feithen is calling it quits.
Feithen made the announcement at the Monmouth City Council meeting on Monday.
He is a graduate of Northern Illinois University, where he also gained his masters in public administration, as well as a graduate of the FBI National Academy in Quantico, Virginia.
Feithen started his career in Dekalb, Illinois in 1975 as an officer, and eventually became the police chief in 2000.
He held the position until coming to Monmouth in 2012 to take on the challenge of working in a smaller college town.
Chief Feithen said he would retire at the end of May or June but a date has not been determined.