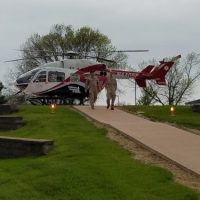 The first flight of a life saving Life Flight helicopter began what will become a daily ritual this morning, by relocating a helicopter to OSF St. Mary Medical Center from Peoria.To begin with, OSF President Roxanna Crosser says the helicopter will be here for 12 hours during day hours but says they would like to expand as soon as possible.
They would need a hangar on campus however, to house the helicopter and a different facility for the air crew.
The crew will stay on the St. Mary campus while they're not flying under the current arrangement.
The impetus is to cut down on patient response time in moments when time is critical.
Crosser tells WGIL that a flight from Peoria to Galesburg takes about 22 minutes.
"But all the checks right before that need to occur even though it's ready to go and come here, so it would be that additional 20-25 minutes that we'll be saving that the helicopter will actually be sitting on the helipad here at OSF St. Mary Medical Center," Crosser says.
She also says flights can have two patients on board at a time.
Weather that threatened with dark clouds and rain drops this morning pushed the launch time from Peoria back to 7 a.m. from the planned time of 6:30 a.m.