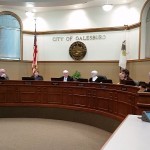 Galesburg alderman got their questions answered last night about Kit Wilcox's intention to purchase the old Ferris Moving Building to turn it into a hotel.
The sale option was only on first reading so no final decision was made.
Wilcox represents a group of investors and is openly looking for more from anywhere. 
He says architects estimate it as a $8 million project.
The intention is to make a boutique hotel, which usually have characteristics like being smaller, located in downtowns, unique architecture and an intimate atmosphere.
Wilcox says his family has always had an interest in the building because his great-uncle built it as a candy factory in 1918.
He says he and his son brought in developers before to look at the building to make it into a hotel or condominiums but ultimately they felt that the cost was too prohibitive. 
Ward 7 Alderman Jeremy Karlin says that if the city doesn't sell the building for a nominal fee, Wilcox would want other incentives and this sort of partnership is how government and business work together.
"This property is making us no money," Karlin says. "There's really been no meaningful interest in it in the last eight years. It certainly helps Mr. Wilcox go to his investors and say, 'look the city's behind me."
The sale is a two-year option with milestone requirements after the first year like securing a designation of historic landmarks for tax credits.
City Attorney Brad Nolden says that 6 of the 8 council members, including the mayor will have to approve this deal due to a recent ordinance change.