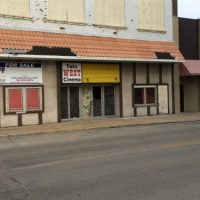 Michael Spinks is the owner of the what was the West Cinema in downtown Galesburg.The building has sat stagnant since Kerasotes, now AMC movie theatre chain left the spot on S and it is believed to need major renovations to bring it up to code.
Spinks bought the building a few weeks ago for just $100.
He admits it will take a lot of money to make repairs but he was also hoping to secure some grants and "surround himself" with the right people.
However, he's not ready to say what he wants to use the building for, other than apparently some kind of business venture.
"I think with this venture I'm going into right now, hopefully with the timing and everything going on in Galesburg hopefully this will put kind of a bright spot over something that's of need in Galesburg," Spinks says.
He's says right now his number one goal is to clear out the space and get the roof fixed.