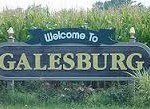 Drivers may have noticed that a section of North Seminary Street has been closed since Friday.The current work is being done on the stretch that runs from Losey to Dudley Street is estimated to be complete in around six weeks, which would have re-opened sometime in mid-May.
Galesburg's Director of Planning and Public Works Wayne Carl told WGIL in October that this work is more of an undertaking than the construction that took place further North on Seminary last year.
Crews from Halverson Construction have to rip out the street to install a new concrete one.
Carl admits this on top of the East Main Street Underpass being built can be a inconvenience but will yield positive results for the city.
"Seminary Street is getting busier all the time and so this is good to get this road totally reconstructed," Carl says. "There will be shared lanes on the outside. It will be a three lane roadway when it's done but the outside lanes will be shared roadways, they'll be striped with the bike sharrows when we're done."
Also Grove Street off of Seminary will be closed for approximately three weeks while Halverson Construction does work there.