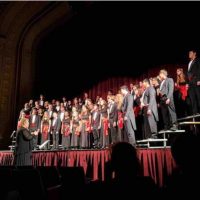 Paula Helle, the choir teacher at Galesburg High School is retiring at the end of the year, and before she goes she felt it was important to replace the choir's digital piano.A Go-Fund-Me page has been established to help crowd fund the money for it.
The current piano was repaired last spring, and the repairman didn't appear optimistic of its future saying it was "on it's last leg."
Ms. Helle felt it was important to find a replacement piano before her retirement in the event the new teacher was not as strong of a piano player as she is.
"I happen to be talking to the guy that tunes our piano at church and he said, 'hey, if anyone's looking for great deals Schertz Music Shoppe in Bloomington/Normal, the guy is retiring and going out of business and he's just letting things go for cost because he's sending it back to the company," Helle says.
The choir had found a steal of a deal for a $10K digital grand piano for just $3,500.
The piano was purchased with money from the student's Florida funds and the money raised will go to replacing that fund.
To donate to the campaign go to gofundme.com and search for GHS choir.