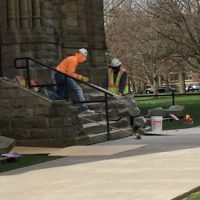 Work has begun repairing the exterior of the Knox County Courthouse.Workers have already grinded out most of the old mortar from around the building, while walls were removed from the north stairs, and the windows are to be addressed once the ground has dried up.
The Knox County Building Committee discussed the use of salvaged granite tread that is coming from the courthouse work, hinting they'd like to use them as decorative pieces around statues such as the Mother Bickerdyke Memorial .
Cody Basham suggested to the committee to have the granite slabs cut into manageable pieces and to be stacked next to the statues that work was to be done on.
Also discussed and approved was the purchase of aluminum hand railing for $2,930.
Basham also told the committee there was plumbing and electrical work to be done inside the courthouse.
Additionally the committee discussed ongoing issues with the Knox County Jail, clearing out the the fourth floor of the court house, and renovation work that is to be done on the Administrative Annex on Simmons street, which hosts the the finance and building committee meetings
The committee tabled discussion on the addition of a fourth probationary office and law library in the courthouse.