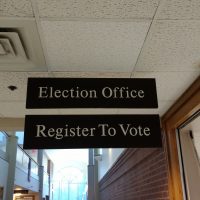 The Galesburg Election Commission moved to reduce the number of Galesburg voting precincts at their meeting in January.
Commissioners will take time at their meeting this Thursday do some administrative work to carry out this change to take Galesburg from 26 to 21 voting precincts.
Election Commission Executive Director Lisa Watson says this won't effect residents' ward or alderman.
Most polling places won't even change she says but that's ultimately what the commissioners will decide on.
She says the bulk of what's happening is for example if there are four precincts in a ward before, now there could be three precincts.
The Commissioners made it so these changes would not go into effect until next year's March primaries.
The trend of voting in elections early has led to less need for so many precincts.
State statute allows local commissions to revise precincts after every presidential election.
Watson says in November's General Election all of Galesburg's precincts were well below the state ideal of 600 voters.