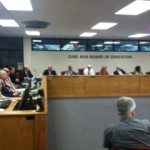 Nine teachers could be recalled tonight by the District 205 School Board.
It will be the last meeting for outgoing members Josh Gibb and Ellen Spittell as well as Bob Lindstrom who has served the last two decades and is current president.
On the agenda for this evening are a pair of bids for roof replacement at the Lincoln Center and tunnel work at the high school.
Also members can approve the next school year's Building Improvement Plan.
The personnel agenda, that typically passes with ease, includes recalling nine teachers who were given Reduction in Force notices earlier this year.
Some items that won't any action but could spur consequential discussion is an update of district finances, setting a date for reorganizing the board, and getting an update from the committee who has been studying GHS' block schedule.
The project to replace the Thiel Gym Scoreboard will also appear as a discussion item this evening.