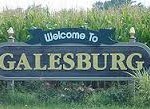 The City of Galesburg filed a complaint in Knox County Circuit Court earlier this year seeking to have two adjacent downtown properties either demolished or brought up to safe conditions.
That's according to City Attorney Brad Nolden who says the city is "pursuing their options" under the order.
The order was delivered to the property owner on Jan 30, 2017.
The two properties owned by the same individual are at 140 and 144 E. Main in Downtown Galesburg, sandwiched between Merle Norman Cosmetics and Azer Medical Supply.
The owner now has until May to demolish or January 2018 to bring the building up to code.
While this may seem backwards but it actually takes more time and resources to make the building safe than it does to perform demolition.
If the order is not complied with then it will be up to a judge to try to enforce the order.