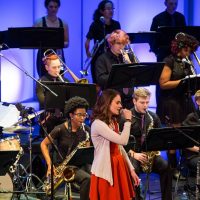 The 37th Annual Rootabaga Jazz Festival is in full swing after two days of performing educational convocations for students in area schools. 
Tonight the Faculty and Friends performances will feature Knox's accomplished jazz faculty and local jazz musicians at Fat Fish Pub.
Tomorrow night the Alumni Big Band will be playing at Fat Fish, followed by Chicago's Victor Garcia's Organ Quintet.
Garcia is considered one of Chicago's most versatile musicians and has played with such artists like Aretha Franklin and rock band Spoon.
On Saturday, Grammy-nominated jazz vocalist Gretchen Parlato will be at the Orpheum theater for a free show.
Andy Crawford, Managing Director of Knox's Jazz Year, has been running the festival for the last five years and says that Parlato is his first choice every year, but this is the first year it has worked out to bring her.
Crawford says, "She's performed with Herbie Hancock, and Wayne Shorter and they've given her really high praise. And so she's bringing in her band and… her music is-it's very interesting. she's pushing the genre combining many different elements… pop music, R-and-B, Brazilian."
Tonight's events at Fat Fish Pub on Broad Street, beginning at eight p-m with a cost of five dollars.