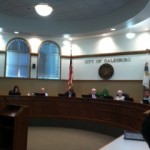 A proposal came before the Galesburg City Council last night to privatize operations of Lake Storey Beach.
Alderman unanimously approved to table the item for a later meeting when questions could be answered on some specifics.
Even Ward 2 Alderman Wayne Dennis who was not present contacted Mayor Pritchard to ask the council to table the motion.
Pegasus Manufacturing was approved for new loans to expand onto their business which they except will result in 23 additional jobs.
Knox County Area Partnership for Economic Development President Ken Springer says this expansion is good for the manufacturing company as well as Galesburg workers.
"The chief benefits to the city will be that Pegasus Manufacturing will effectively double in size adding 23 new jobs between now and 2019," Springer says. "These jobs will be family-sustaining jobs. The average wage is expected to be slightly higher than the area's median household income."
Council approved paying about $190,000 for $300,000 worth of playground equipment for several city parks.
City Manager Todd Thompson says this would be the city's first playground equipment installed in the last 20 years outside of Rotary Park.