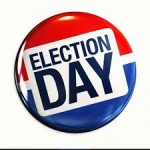 It is Election Day in Knox and surrounding counties.
Polls open at 6 a.m. this morning and will be open until 7 p.m. tonight.
City hall is the only place grace voting is going on for those in Galesburg not yet registered but by going to Galesburg Election Commission's website you can find where your particular polling place is.
Galesburg residents are voting on a number of races including Galesburg mayor, the 6th ward alderman, treasurer and two contested school board seats for District 205.
All of Knox County's voters will decide on whether to create a 708 Board of Mental Health to be funded by property taxes.
Contested mayor races are also taking place for the municipalities of Abingdon, Monmouth and East Galesburg.
There are also competitive school board races for A-town, Knoxville, Williamsfield, Monmouth-Roseville and United districts and aldermanic races in Monmouth and Knoxville.
Tune into 93.7 FM and 1400 AM WGIL when polls close tonight for up to the minute election returns for all these races.
Intermittent updates will also come through on our sister music stations, The Laser, FM95 and KFM.