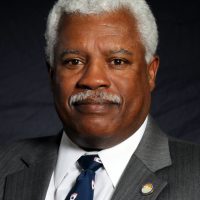 Reverend Jon A. Sibley Sr., a U.S. Air Force veteran, and former Illinois State Trooper of twenty years passed away today at the age of sixty-eight.
News of his passing came from a press release from Carl Sandburg College.
Reverend Sibley served as the third-longest tenured trustee on the Carl Sandburg College's Board of Trustees, which he was elected to first in 2007.
A 1978 graduate of Sandburg, he also served as a minister of Full Gospel Church in Galesburg, as well as a member of the Galesburg Police and Fire Commission.
Rev. Sibley also was the first elected president of the Support Group for African-American Affairs and was a past member of the Community Hospice Foundation, as well as Knox County's YMCA, Teen Court, and Drug Court boards.
In 2013 he received the Thomas B. Herring Community Service Award from the Galesburg Area Chamber of Commerce for his many decades of giving to the community.