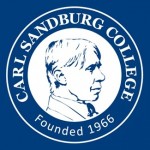 Earlier this week Carl Sandburg College hosted and took part in a Federal Emergency Management Agency sponsored multi-day emergency management and preparation course with multiple area schools.
The three day course involved interactive presentations from various professionals, class exercises, and small group activities.
The overall goal is to better develop Emergency Operations Plans, as well as implementing strategies for training and testing of these plans.
CSC President Lori Sundberg discussed faculty and staffed running active shooter drills on campus. 
She stressed that these drills have not been done with students in class to avoid incidents with students suffering from PTSD, and mental health issues in an effort to not create any additional harm.
Additionally Sundberg said that the former president of Umpqua Community College, who had an active shooter on campus in 2015, came and presented for the Sandburg staff.
Sundberg says that keeping the school safe is critical.
"With all the recent shootings and all the recent violence, we take it very seriously here," Sundberg says. "And we're trying to be as ready as we can if it would ever happen here. We want to protect our students, we want to protect our employees."
Joining CSC for the training course were representatives from Knox, Monmouth, W-I-U, Spoon River, and Illinois Valley,