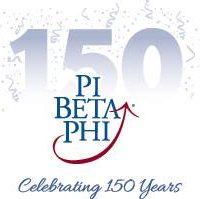 Pi Beta Phi, the nation's first sorority was born at Monmouth College in 1867 but the Greek life organization has over century old roots at rival Knox College as well.
For the next two years in celebration of Pi Phi's 150th Birthday the Ring Ching Roadshow will be traveling the United States and is making a stop at Knox this Friday and Monmouth Saturday.
The Ring Ching Roadshow is a small SUV that is gathering Pi Phi members stories and members as they travel.
The Knox College stop will get underway at 4:30 p.m. Friday in Old Main's Alumni Room for a photo op and a "cookie shine", essential what Pi Phi's call a gathering in which cookies are served.
That will be followed with a tour of Knox's Pi Beta Phi bungalow from 5:30 to 6:30 p.m.
Monmouth College Alpha Chapter will hold a similar event at the Pi Phi house at 1:30 p.m. Saturday.
They've named the SUV the roadshow is traveling in "Libbie" after Libby Brook Gaddis, the sorority's youngest founder.