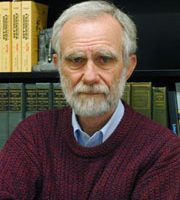 Knox College's two directors of their Lincoln Studies Center have been awarded for a career of studying the life and works of Abraham Lincoln.
Douglas Wilson and Rodney Davis are names most of the attendees at the Abraham Lincoln Institute are familiar with.
The Institute has given Wilson their annual book award three times including their first ever such honor that he shared with Davis.
Wilson was present to accept the award at Ford's Theatre in Washington D.C. and give a speech.
Local historian Rex Cherrington says the pair have worked "diligently to get the text of the great debates as accurately as possible" and says the honor is much deserved.
Beyond the books he was honored for Wilson has authored extensively on Thomas Jefferson.
Wilson and Davis and have each been at Knox for over five decades.