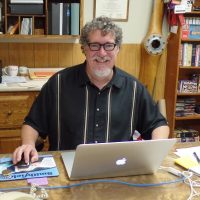 The City of Monmouth implemented a web site development program a few years ago in an effort to grow the online image and presence of local business and non-profits.
Director of Community and Economic Development Paul Schuytema created the program that pairs a Monmouth College intern with a local business in need of an upgraded or new web site.
Interns from the college learn the basics of web site design then get to work at City Hall for ten hours per week during the semester, meeting with clients multiple times.
These meetings range from fact-finding to hands on training.
Interns then design, develop and deploy a professional-grade web site, along with training the client to maintain and update the web site.
Schuytema says in a press release that "In the end, the client gets a professional web site at a great savings. And the student gets some real world work for their portfolio. It's a true win-win."
The interns in the program have completed web sites including the Buchanan Center for the Arts, the Warren County Public Library, the Mellinger Foundation, as well as the latest upgrade to the City of Monmouth's web site.
Monmouth's mayor Rod Davis said of Schuytema and his program, "He's directly saved the city tens of thousands of dollars on our City web sites, and this program brings those savings, as well as real results, to our local businesses."
Costs run from forty-five dollars to three-hundred and fifty dollars to directly develop the web site with additional costs to buy domains.