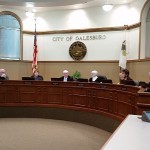 The Galesburg City Council rejected last night a proposed shift from quarterly to monthly water bills.
Mayor John Pritchard says he anecdotally talked to a Monmouth city official who says that going from from quarterly to monthly utility bills cut down on delinquent bills scientifically.
City Manager Todd Thompson says the primary motivation for this ordinance wasn't to collect bad debt, but to help residents pay their bills on time.
Thompson says that of the 12,400 accounts the city has about 25 percent of them aren't paid on time.
Alderman Corine Anderson says she didn't think this was that significant of a change.
She pointed out that residents who wanted to pay four times a year could simply pay their bill in advance.
Alderman Russell Fleming didn't agree with that logic though, saying it was unfair to "punish people who are paying on time" for those who are not.
Council also approved an ordinance that would put lay the groundwork for a Transportation Network Company like Uber or Lyft to come to Galesburg.