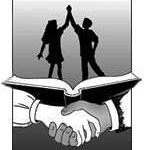 The Great Galesburg Shake is returning next month for its 3rd year. The 'Shake' is a soft skills competition that builds and tests students ability to do things like have a firm hand shake and holding a conversation. Jody McNally is an Outreach Worker at Nielson and King schools.  She says that 205 has adopted the 12 Tools for Triumph to teach the students and then send through rounds of meeting with various community leaders.
We started to notice that those things weren't really still part of a curriculum," says McNally, "and that sometimes kids aren't learning them much at home so it just kinda grew as a very small thing and now has become an awesome event we have done for the past three years."
McNally says as the competition has grown it's gone from being purely for the kids to also being for the community. She says the Great Galesburg Shake is a way to remind residents of the "our awesome youth." Jacob WIlliams, last year's runner up and now a freshman at Illinois State says participating gave him essential skills before going off to college.
"I really underestimated how much it really did help me," expresses Williams, "and how much it expanded from first year to second year."
Williams says that even youth who possess some confidence in their soft skills the 'Shake' competition can still sharpen them. McNally promises the top five finalist will go on a trip, like in past years, but would not reveal where they would be going exactly. The shake runs from April 19 through 27.