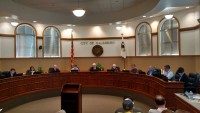 Galesburg City Council discussed preparing the city code for companies like Uber and Lyft last night.
Executive Director of the Knox County Area Partnership for Economic Development Ken Springer says that right now, ride sharing services or transportation network companies are mainly in large cities.
However, Springer says that we can anticipate them coming into Galesburg size towns in the years to come.
Already they have a presence in larger Illinois cities like Peoria, Bloomington and Springfield.
Springer says TNC's have a lot of potential benefits to the community.
"They provide residents with additional income opportunities where folks can sign up to be drivers," Springer says. "From a transportation stand point it's another option for area residents contributing to qualify of life and also some studies have shown that TNCs reduce rate of drunk driving as well," Springer says.
City Manager Todd Thompson explained the ordinance would codify in Galesburg what state law already gives some structure too.
Additionally the parking restriction for the south side of Fifer Street was approved.
Thompson says this should only eliminate a single parking space in an effort to create two lanes of traffic for before and after school pick up at Silas Willard.
City staff is also recommending council shift from quarterly to monthly billing for water, sewage and refuse.
Thompson says among other benefits he suspects this will cut down on delinquent payments.
The City has about $500,000 of bad debt in water bills.