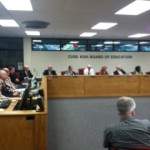 District 205 last night approved sending Reduction in Force notices to 14 staff including ten teachers.
Superintendent Ralph Grimm has said these were largely for the purposes of right sizing the district with declining enrollment.
Vice President Josh Gibb supported all the resolutions but says its difficult to when he has to cut position of people he knows in the community.
"I obviously believe that as a district these are cuts
A Nielson kindergarten teacher, not one that was RIFed, made public comment to ask the board move quickly with RIF callbacks as people's careers are in the balance.
Grimm says it's possible the school won't receive any of its categorical payments which are upwards of $1.5 million for the year, and he seems he certain 205 won't see all payments.
He also expressed a growing sense in Springfield that if the June 30th end of the fiscal year comes and goes without a budget, Illinois will probably have to wait until after the 2018 Governor's election.