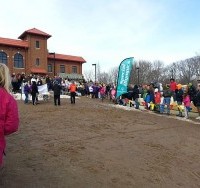 The Polar Plunge is not for the faint of heart but the waters of Lake Storey likely won't be as icy as in past years.
The annual event for philanthropists and masochists alike is this Sunday from 2 to 4.
Area Four Manager for Special Olympics Illinois Jennifer Davis says that dollars raised will stay to benefit athletes in our region.
She says there are about 700 athletes in the seven counties of Area Four and funds will go to future events including awards, meals for athletes coaches and volunteers and lodging at the state level.
After unseasonable warm recent temps Sunday has a forecasted high of 47 degrees in Galesburg.
"You're in and out very quickly," Davis says. "I always tell people it's not so bad in the water it's always the walk from the water back to the changing rooms that's the worst part of the whole plunge."
Davis says plungeillinois.com is where you need to go to sign up or you can just walk up and register at the event on Sunday.
This is of course the season when polar plunges are taking place across the state and country to benefit local sectors of Special Olympics.
Fox Lake, Illinois is holding one the same day as Galesburg's and the day before they're being held in Quincy, Mahomet, Carlyle, Mendota, Bloomington and on the SIU-Carbondale campus.