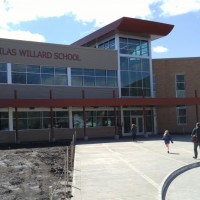 The City of Galesburg has been working with District 205 to find a solution after scores of complaints regarding traffic during pick up and drop off times at Silas Willard School.
Traffic has often backed up so much on Fifer Street, the line of cars will be pushed back to Seminary which causes cars to pass the jam in the oncoming traffic lane.
Options were discussed including modifying striping, adding a sidewalk or assigning staff to direct traffic.
Director of Planning and Public Works Wayne Carl says they decided it would be best to restrict parking on the south side of Fifer for the first 250 feet off of Seminary, until the first school driveway.
Parking is already restricted on the north side so this would free another lane of traffic flow.
The restriction would only be during school hours.
Carl says the impact on Fifer residents should be minimal.
"It only affects really one parking space on the south side of the street because of the location of the existing driveways so they're really only losing one or two spaces at the most," Carl says.
Ward 2 Alderman Wayne Dennis made a motion to suspend the rules and adopt on first reading Monday night but that failed.
Jeremy Karlin Alderman of Ward 7 said the owner of the home with the parking space in front deserves a chance to petition the city.
The motion will be likely be on final reading in a few weeks.
Ward 3 Alderman Russell Fleming asked if reversing the one-way street would make any difference.
Carl says that was discussed but the school installed angled parking for east bound traffic on Fifer, which is not easily undone.